Pet Portrait Gift Certificates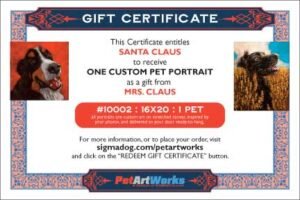 Now you can give the pet lover in your life a Pet Portrait Gift Certificate!
All you need to do is fill out the Gift Certificate Order Form. It's interactive, and walks you through all the info needed to order a Gift Certificate for anyone living in the U.S.
Fill out the form, pay the full amount, and I'll email you a printable PDF of your Gift Certificate, or (and I think this is pretty cool)…
…If you like, I will create and print out the Gift Certificate and place it with one of my exclusive PetArtWorks art cards and mail it to the address you provide. All at no extra charge to you!
It really doesn't get any easier than that.
Easy For You
Lots of people want to give pet portraits as gifts but don't have access to the necessary photos. And they can't very well ask their intended recipient for photos without spilling the beans.
A Gift Certificate is a great option. If they're like me, the pet lover in your life has TONS of photos to choose from, while you may likely only have a few (if any). They know their pet best, and will likely have just the right photos that show the furry little fella's personality.
Helpful for Me
The Holiday season is a marathon of painting for me. Because my art takes time, I can only fit in a certain amount of Christmas pet portraits. And I have to be done by the first week of December in order to make sure they deliver before Christmas.
Other times of the year are never quite as busy for me. So deferring the painting for a few weeks is a great relief to me. It avoids the panic rush of getting it done quickly before Christmas. It also allows me to fill in some rather slow times of the year, while taking my time to do the painting right.
Pet Portrait Gift Certificates All Year
But it's not just Christmas. Gift Certificates are available for purchase all year long, for birthdays, Mother's Day, Father's Day, or any occasion to celebrate or memorialize a cherished pet.