Custom pet portraits inspired by your photos
Love Them Forever.
Upload photos of your pet and I'll use them for inspiration to paint a beautiful portrait. The final art will be on stretched artist canvas and delivered to your door ready-to-hang.
How It Works
You place your order, uploading good clear photos and paying half via my secure Paypal link.
I paint the portrait and email you a proof.
A. You approve the proof as is and pay the final half (I'll send you a Paypal invoice), or B. You request one free round of changes.
Once approved and paid in full, the print is created and shipped to your address.
Normal turnaround time between order and delivery is 3-4 weeks.
The Artist
I'm Steve Merryman. For over 35 years I've been creating successful, award-winning graphic design and illustration for corporate clients. But what I really love to do is paint critters.
That's why I created PetArtWorks.
While not as lucrative as corporate work, helping pet lovers celebrate and memorialize their pets is satisfying in ways that can't be measured.
Want the full story?
Watch me paint a portrait!
Here's a screen-capture video of my painting process. I paint digitally using a Wacom Cintiq monitor and Corel Painter software.
Video length: 4 and a half minutes.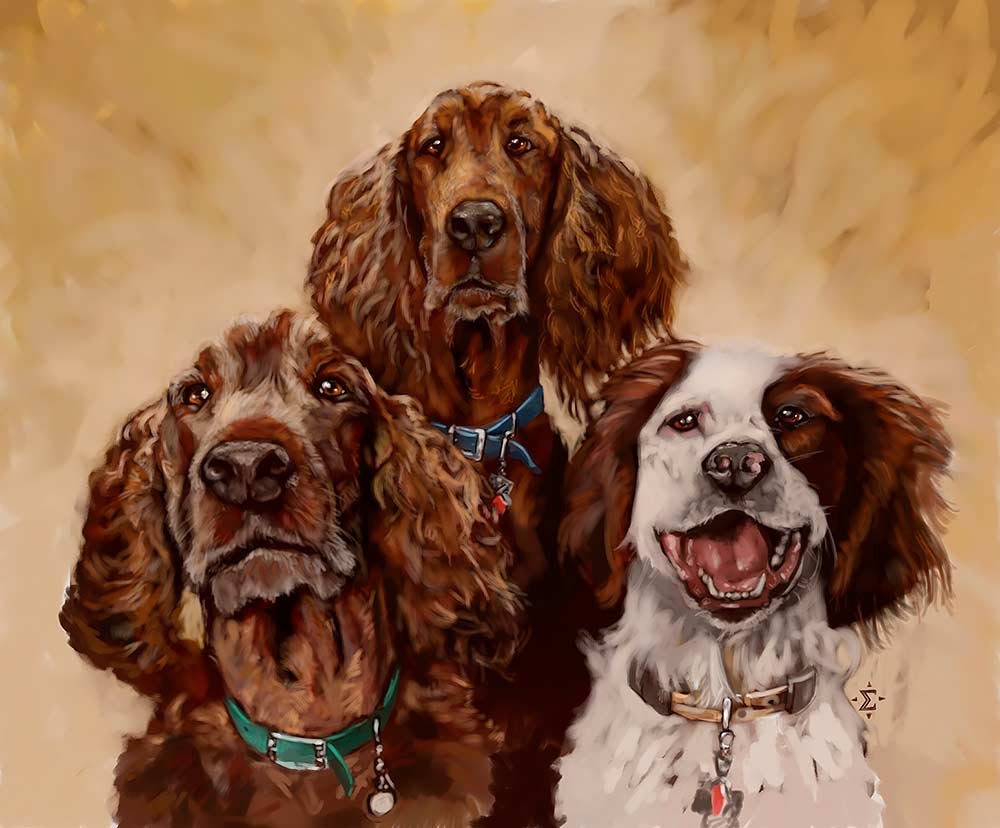 Derry, Darby & Dreamer (16x20)
"Steve, you captured all 3 of them. I'm basically in tears. Thanks for the gorgeous work."
-Jim in Wisconsin
---
LOVE THEM FOREVER.
Each portrait is made by hand, printed on canvas (or paper) and delivered to your door ready-to-hang.
SIZES / PRICES