Before I get to the new drawings, I'd like to post a better scan of "Sunrise at Redrock" which I posted in my previous drawing-themed post (NOTE: that crappy photo has since been replaced by what you see below). The reason: my iPhone sucks at art photography. I have a flatbed scanner that gives a better representation of the drawing, showing a much fuller range of values than the iPhone. I'll be sure to use the scanner for all future drawings (including the new ones below).
Here's the definitive, "Sunrise at Redrock" (8x10 graphite and charcoal).
On to the new work…
I recently purchased some new pencils and drawing paper for drawing experiments. I'm trying to find the combination that suits me for drawing. For this experiment, I went with a slightly textured watercolor paper (it's called Aquarius, if you must know) and a set of graphite pencils that advertised a more "matte" finish, meaning they were less shiny than regular graphite, which I hoped would help in achieving deeper, darker tones without the normal shine you get from graphite.
So I began doodling, and eventually ended up with this. White River (8x10, graphite & charcoal).
It's okay for an experiment. I learned a lot about the pencils, and found myself desirous of less texture in the paper. The deep, dark areas were still too light, in my opinion, so I had to help them out with a bit of charcoal. In the end I learned a bit about the paper, the tools, and my abilities, so even though it's a weak composition, it's still a win in my book.
Lastly, today I finished a drawing of Hudson on Bristol paper using mostly charcoal with a little graphite.
I'm fairly happy with the result, though I definitely need to work on sharpening the edges of major shapes. The eyes look good, but I lost my way a bit on the nose and jowls. The image has a good sense of depth, however, due to the high contrast of shadow and highlight areas.
I feel I'm getting better with each piece, and closing in on the skills I used to have years ago.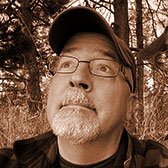 About the Author
Topdog is the online persona of Steve Merryman, a retired graphic designer, illustrator, and winner of over ninety regional and national awards. Living in the woods just west of Idaho (USA), Steve can often be found working on pet portrait commissions. His spare time is spent painting; writing; cuttin' trees an' shootin' guns; hiking with his dogs; savoring the occasional beer; searching for the perfect cheeseburger; and wondering where he left his pants.
Some recent posts: