It's Too Hot to Blog!
Summer has finally arrived, and we're getting it good and hard. It's in the mid 90's (my comfort level runs from 65° to 85°).
The dogs are coping. Beorn is spending his days in the basement where it's a cool and constant 65°. This is Hudson's first summer and he doesn't seem to even notice because he's got a new playmate. The neighbors have a 6-month old German Shepherd pup, Kairo. He and Hudson (who is 10 months) hang out together all day, usually at our house. I don't mind at all. Kairo's a good pup, though I might need to teach him a few things as a surprise for the neighbors.
If I play it right, I'll end up as Kairo's pack leader, and he won't listen to anyone else.
Slowly and cunningly. That's how you kidnap a dog.
Work! I've got work!
I'm actually kind of busy. I have a couple portraits I'm working on, and a bunch of marketing graphics for a Duathalon (I think I spelled that right) over in western Washington. The Summit Plummet is a dual event beginning with a run from the top of Crystal Mountain, followed by a bike ride from there down to the town of Enumclaw.
Here's the main graphic for the event I created: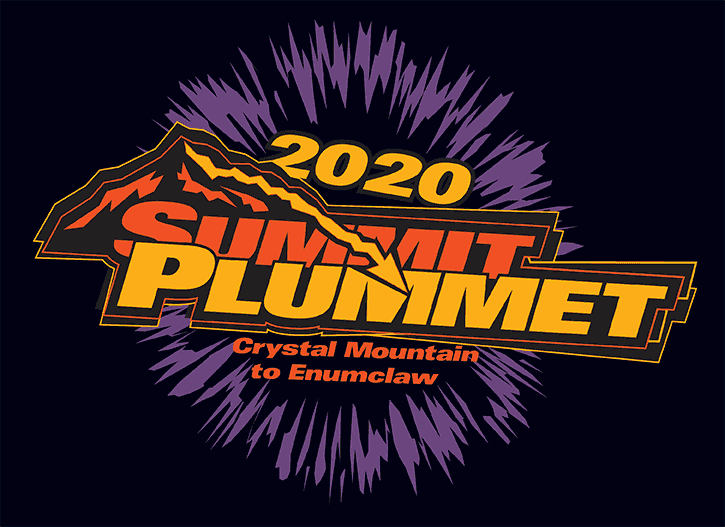 Next up is the T-shirt art, which I expect to finish this week.
I gotta say, it's fun doing graphic design again. Maybe I've got a future in this field after all.
Comment of the Year (so far)
I've been on the receiving end of several strange comments lately. Judging by the poor grammar, they are either from foreign countries or students from New Mexico where education is so bad they rank 51st out of 50 states. Puerto Rico has better schools. That's right, an island infrastructure totally destroyed by a hurricane still outranks New Mexico in education.
But back to the comment of the year.
This comment gave me a hearty laugh, and even now still makes me smile. What made it so funny is that it was posted to my Conversation with a Dog (Part Two), which was a light and kind of hopeful story about getting a new dog while missing the older dog who passed away.
You can read the post first, but I think the previous sentence sets it up pretty well.
Here it is, the Comment of the Year (so far).
The following time I learn a blog, I hope that it doesnt disappoint me as a lot as this one. I imply, I know it was my choice to read, but I truly thought youd have one thing fascinating to say. All I hear is a bunch of whining about one thing that you could possibly repair should you werent too busy searching for attention.Foreign Bot
Hilarious! The Bot just lays it all out there. Don't be shy, Foreign Bot, tell me what your artificially grown neural pathways really think.
I'm sure it was a spam attempt, otherwise I would seriously consider writing back to ask how to go about fixing "one thing that you could possibly repair" were I not so busy seeking attention on my blog that nobody reads.
I mean, I'd really love to have Boris back. But I've seen Pet Sematary, and if that's what Foreign Bot was suggesting, I'll have to pass.
I've since shut down comments on posts older than 30 days because none of the other spam bots are as eloquent and direct as Foreign Bot. They are simply tiresome.
If you're out there crawling my blog, Foreign Bot, I just want to say I miss you.